Just like you, we see the new remodeling trends – reclaimed wood, glass tiles, floating shelves, sliding barn doors, quartz counter tops, and two toned cabinets – and we want to try them too. That is why we just designed and built a brand new kitchen vignette in our design center. It features many of the new kitchen remodeling trends. Here are the remodeling trends we feel are here to stay, and which ones are a lot of fun, but may not last long.
Gray Is Here To Stay
While white cabinets continue to be the favorite, gray is the shade that has been steadily gaining in popularity. Another popular trend in kitchen design — combining two cabinet colors in the same space — works perfectly when one of the colors is gray. Because gray is a neutral shade, it complements all hues and pairs well with most every color. Stick to similar shades and intensities for a cohesive look.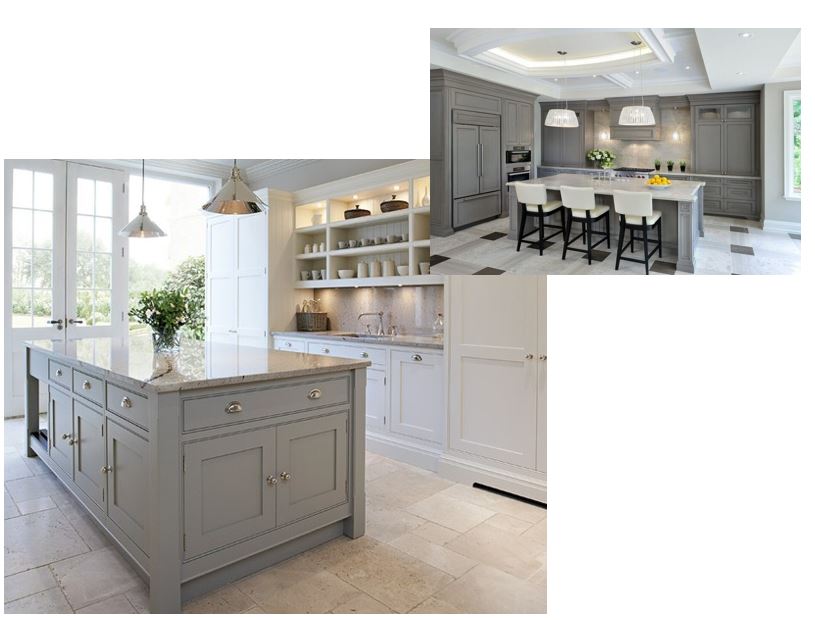 Reclaimed Wood
Everyone is buzzing about reclaimed wood. But why, how and where should you use it? In the kitchen, there are plenty of fantastic opportunities, from floors and cabinets to island accents and floating shelves, all the way up to ceilings and ceiling beams. You can also add the material in accessories and light fixtures. Beware, this trend might not be around too long, so use it sparingly or in places that are easily changed.

Glass Tiles For The Backsplash
A glass tile backsplash is a great way to add color and visual interest to your kitchen. These gorgeous and relatively inexpensive tiles can be arranged in an array of patterns, adding even more distinct style and design flair. Best of all, glass tiles can be mixed with stone, granite, ceramic and metal tiles to make it even more exciting.

Floating Shelves
Use floating shelves to display your favorite plates, cool glasses, unusual plants or even an inspirational quote. For the shelf itself, choose a finish that contrasts with your cabinets. Floating shelves will add interest and create a beautiful mix of finishes. Floating shelves might be one of those trends that won't last, so do not devote too much room to them.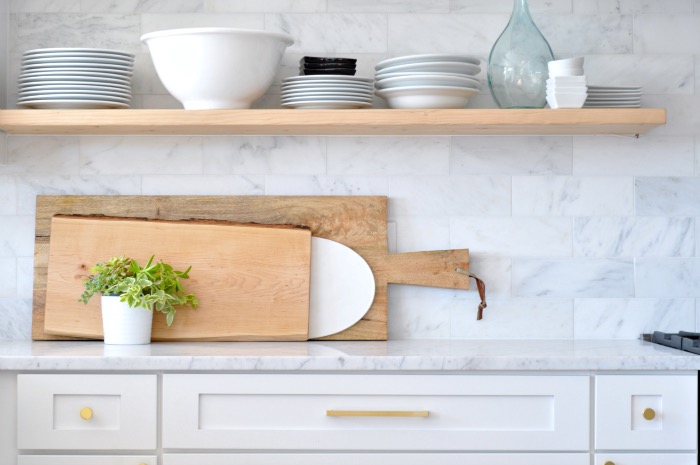 Sliding Barn Doors
Trying to squeeze a small pantry into a kitchen? Save some space and create a really cool element by using a sliding barn door to hide the pantry or coffee station in a closet.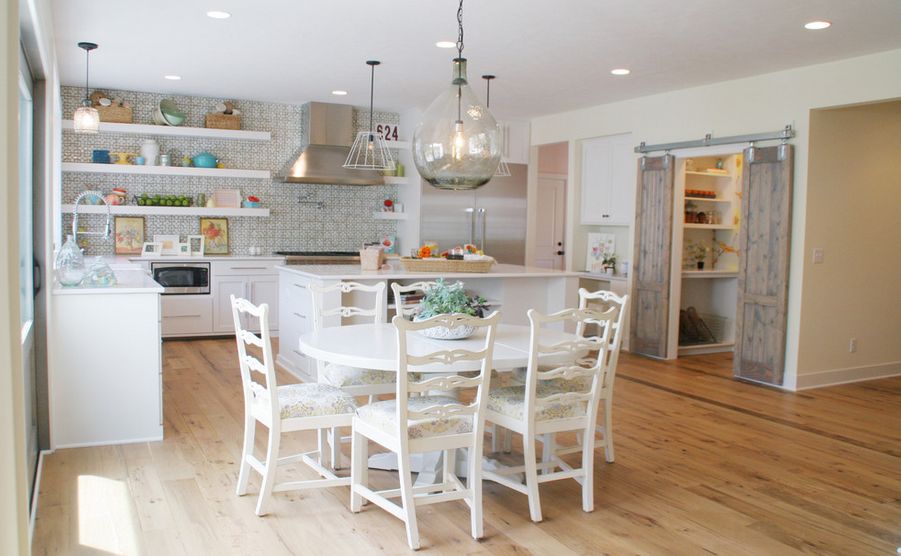 Quartz Countertops
Quartz countertops are a manufactured product that is relatively new, but has found a loyal following because of the consistent appearance, durability and stain resistance. The manufacturing process allows for a much wider range of colors than you'll find in natural stones such as marble or granite.