[block_info]
[two_col]
Naperville Kitchen Remodeling
Your Successful Naperville Kitchen Remodeling Project Starts Here
A Bradford & Kent designer will take your vision, add their own artistic touches, and create a highly functional, aesthetically pleasing kitchen design.
To develop the optimal Naperville kitchen remodeling plan, your designer will work with you on
[/two_col]
[one_col]
[image_block]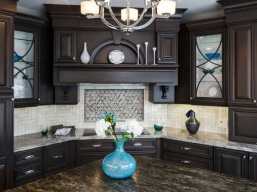 Click Here to See
Our Kitchen Portfolio
[/image_block]
[/one_col]
[/block_info]
[col_holder]
[one_col]
[image_wrap]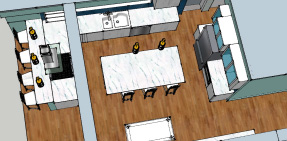 Space Planning
[/image_wrap]
To determine the best layout, your kitchen designer will develop a work triangle that gives you the easiest access to the sink, stove and refrigerator. They will also make sure the work aisles are appropriately proportioned, and an island will be considered as a place for food preparation, seating, storage, entertaining or even as a focal point. Your kitchen designer will incorporate additional needs such as a media area, message center or charging station. After a thorough analysis of the space, our Naperville kitchen remodeling expert will give you several layout options.
[/one_col]
[one_col]
[image_wrap]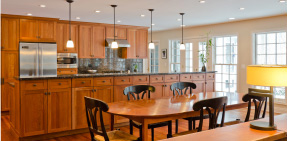 Preferred Style
[/image_wrap]
Next comes the fun part – picking the overall style of your kitchen remodel. Are you someone who likes the clean, minimalistic look of a modern kitchen? Or, do you prefer a traditional kitchen with intricate wood moulding, cabinets featuring glass inserts and a stunning center island? Perhaps your ideal kitchen design is something in between. Whether your tastes are traditional or contemporary, transitional or craftsman, we can give you a design that will make your Naperville kitchen renovation the talk of the neighborhood.
[/one_col]
[one_col]
[image_wrap]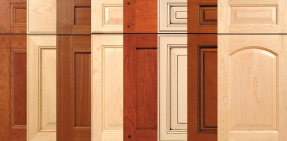 Kitchen Cabinetry
[/image_wrap]
At Bradford and Kent, we carry several kitchen cabinet lines to give you almost limitless options. Our cabinetry comes in specialty woods and finishes, sheens and paints which can be enhanced with glass inserts to allow you to create a one of a kind door style. Interior accessories can be integrated to add functionality to the beauty of your cabinets.
Our many cabinet lines can be seen in our kitchen showroom displays.
[/one_col]
[one_col]
[image_wrap]

Countertops & Backsplashes
[/image_wrap]
Countertops and backsplashes are essential elements of your kitchen remodeling project. Many clients choose granite and marble countertops for their natural beauty. Some prefer the more consistent patterns of quartz countertops made by Silestone or Cambria. For a contemporary look, stainless steel or even wood countertops are options. Backsplashes can also really enhance your Naperville kitchen remodel. Stone, glass, tile, metal and granite are just a few of your choices. Combined they can create a work of art.
[/one_col]
[one_col]
[image_wrap]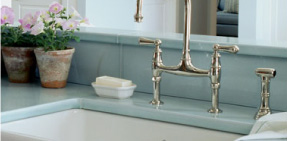 Faucets & Sinks
[/image_wrap]
From the neutral, classic look of satin nickel to the popular new bronze finishes, kitchen faucets can be attractive and functional. The same goes for sinks. For the gourmet, we have multi bowls, strainers and integrated cutting boards.
Sinks can be made out of the countertop material for a continuous look, or out of enameled cast iron or stainless steel. Unusual faucets and beautifully crafted sinks can create a custom look for your Naperville kitchen remodel.
[/one_col]
[one_col]
[image_wrap]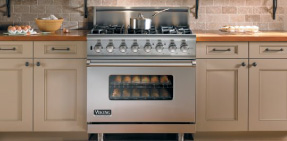 Appliances
[/image_wrap]
Appliances used to be unattractive and utilitarian. Now they can be cleverly hidden by panels or neatly tucked underneath island countertops, as is the case with under mount microwave drawers, refrigerators and dishwashers. Some, like the restaurant quality ranges, are so stunning they deserve to be showcased.
Even small kitchens can look like designer kitchens with the right appliances.
[/one_col]
[/col_holder]
[three_col]
[sub_info]
Bradford & Kent Are The Experts In Naperville Kitchen Remodeling
Schedule your free in-home consultation and allow us to show you why we are the premier Naperville kitchen remodeling contractor.
[/sub_info]
[/three_col]