[block_info]
[two_col]
Naperville Bathroom Remodeling Experts
Your Successful Naperville Bathroom Remodeling Project Starts Here
Bradford and Kent is the expert in Naperville bathroom remodeling. Over 30 years, we have remodeled hundreds of Naperville bathrooms. We understand that today's bath serves as a retreat which is why we give special attention to this very important room. Our designers will work closely with you to understand your personal needs and tastes, so they can develop a bathroom design that will give you exactly what you want and deserve. To do this, your designer will discuss
[/two_col]
[one_col]
[image_block]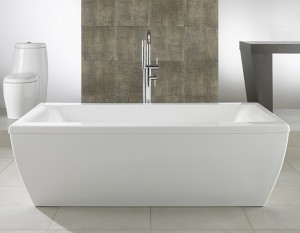 Click Here to See
Our Bathroom Portfolio
[/image_block]
[/one_col]
[/block_info]
[col_holder]
[one_col]
[image_wrap]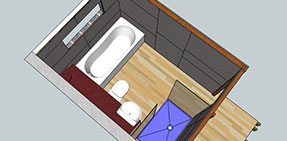 Space Planning
[/image_wrap]
Your idea of relaxation might be taking a nice, long hot bath while your spouse prefers to luxuriate in a steam shower complete with multiple body sprays. These preferences and the size of the space will determine how we design your bathroom renovation. Many Naperville master bathrooms can accommodate an oversized shower and tub, while smaller bathrooms may require cleverly combining the two. Sumptuous amenities such as heated floors, towel warmers, stereos and televisions can be incorporated into even the smallest bathrooms making them feel luxurious.
[/one_col]
[one_col]
[image_wrap]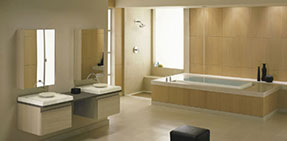 Preferred Style
[/image_wrap]
The latest trend in Naperville bathroom remodeling is to create a spa like atmosphere. This can be achieved using a warm, neutral color palette for the cabinets and flooring, soothing rain shower plumbing fixtures and a simple, stand alone bath tub. However, if you are a little more traditional you might prefer detailed cabinetry, crown moulding and elegant granite countertops. Those who want a contemporary feel might like a bathroom with clean lines, open cabinetry and simple plumbing fixtures. Whatever your style, our bathroom designers will make sure this special room is an oasis in your home.
[/one_col]
[one_col]
[image_wrap]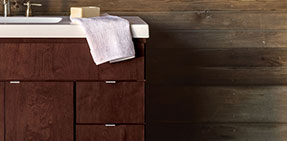 Bathroom Cabinetry
[/image_wrap]
Gorgeous, furniture like cabinetry will bring sophistication to any bathroom. This designer bathroom look is completed with matching mirrors and decorative wall sconces. If you prefer something more simplistic, we have several cabinet lines to choose from that offer any style you might want in a variety of stains and painted woods. Our cabinet lines and sample bathroom vignettes are on display at our design center.
[/one_col]
[one_col]
[image_wrap]

Countertops
[/image_wrap]
Granite countertops add natural beauty to any bathroom remodel, are easy to clean and very durable. Quartz has many of the same qualities as granite, and appeals to those who like uniform consistency and a wide variety of colors. Marble has been a favorite of homeowners for years. The clean, elegant look enhances any style Naperville bathroom.
[/one_col]
[two_col]
[image_wrap]


Plumbing Fixtures
[/image_wrap]
Free standing tubs are the latest trend in Naperville luxury bathrooms. Whether you choose a simple, sculptural tub or an old world, claw foot tub, free standing bath tubs are a showpiece in any bathroom remodel. For those that prefer showers, multiple body sprays, steam, and overhead rain shower fixtures provide just the right amount of pampering. Vessel sinks and waterfall faucets even make personal grooming a pleasurable experience. Our goal is to turn your bathroom into a relaxing area where you can wash away the day's stress and reenergize.
[/two_col]
[/col_holder]
[three_col]
[sub_info]
Schedule your free in-home consultation and allow us to show you why we are the premier Naperville bathroom remodeling contractor.
[/sub_info]
[/three_col]