Naperville Home Remodeling – Kitchens, Bathrooms, Basements And Additions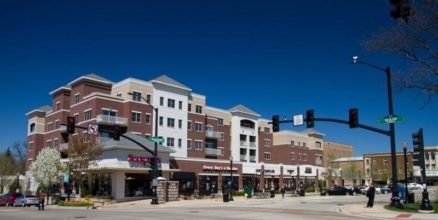 Naperville Home Remodeling
Naperville Home Remodeling
Bradford and Kent are experts in Naperville home remodeling. Home additions, kitchens, baths and basements are some of the types of remodeling projects we have designed and built in Naperville. At Bradford and Kent, we have enjoyed remodeling Naperville's charming older homes around the downtown area and the beautiful newer homes in the surrounding areas.  With all the amenities of a modern city and all the charm of a small town, Naperville truly is one of the premiere communities in Chicagoland. Below you can see our Naperville kitchen, bathroom and basement home remodeling projects. In addition, we have re-sided, replaced windows in and totally transformed many Naperville home exteriors.
---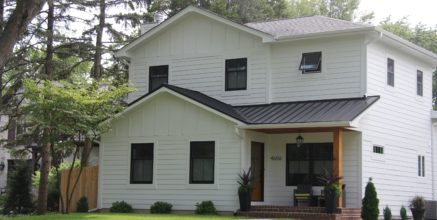 Naperville Home Additions
We pride ourselves in making our home additions seamless which means that our designers will make sure that your Naperville home addition looks as if has always been there. Whether you want to add a second story, rear addition or simply desire a little extra room, your home addition will blend beautifully into the existing architecture.
What Clients Say About Bradford And Kent's Naperville Home Additions
Kevin S. – Bradford and Kent Home Addition In Naperville
We purchased an older home in Naperville. After being in the house for awhile, we decided that we needed a bigger kitchen and eating area which meant bumping out the back of our house. Several of our neighbors had used Bradford and Kent for their home renovations. We gave them a call. Jim came out and listened to our problems. He was very knowledgeable. He offered a lot of ideas that we had not even thought about doing. He also told us ways we could solve our issues that would save money. He showed us all of our design options using a 3D software tool which we found helpful. With this software you can visualize what your home addition will look like. We decided to go with Bradford and Kent. We could not be happier. Our construction manager John and all of the trades were fantastic. Best of all, the addition fit perfectly with the old house. We have received a lot of compliments from family and friends.
---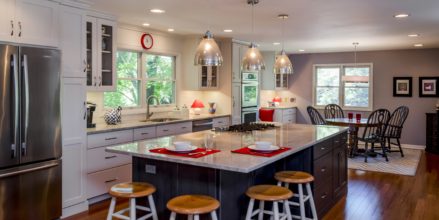 Naperville Kitchen Remodeling
Naperville Kitchen Remodeling
At Bradford and Kent we are passionate about creating, building and installing dream-come-true kitchens for our clients who value quality, integrity and personal service. We fully immerse ourselves in your Naperville kitchen remodeling project from beginning to end – bringing a design from the drawing board to reality, and from delivery to installation. We are expert at juggling and finessing the hundreds of details a job demands and at maintaining that fine balance between aesthetics and functionality.
What Clients Say About Bradford And Kent's Naperville Kitchen Remodeling
Ilana S. – Bradford and Kent Kitchen Remodel In Naperville
We just finished our kitchen remodeling project and were very pleased with Bradford and Kent. Our previous kitchen was a dated, dark and closed kitchen. Thanks to Bradford and Kent, we now have an open, airy and bright space that we just love! The kitchen design process was productive (and fun) and the designers helped us through every step. Throughout the kitchen remodeling project, we received great customer service. The completed work is definitely of high quality. Bradford and Kent really cares about the finished product, are detail oriented, and they value making sure that everything is done right and to your liking! We highly recommend Bradford and Kent!
---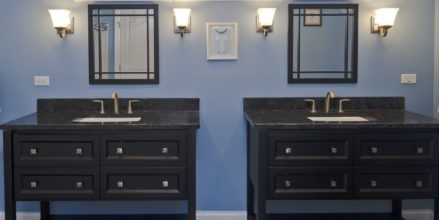 Naperville Bathroom Remodeling
Naperville Bathroom Remodeling
As Naperville bathroom remodeling experts, we understand that today's bath serves as a retreat which is why we give special attention to this very important room. Our designers will work closely with you to understand your personal needs and tastes, so they can develop a bathroom design that will give you exactly what you want and deserve.
What Clients Say About Bradford And Kent's Naperville Bathroom Remodeling
Bob G. – Bradford and Kent Bathroom Remodel In Naperville
B&K recently completed the remodeling of our master bathroom and did an outstanding job. I was most impressed with their customer service. They made sure I was completely satisfied when the job was finished and didn't stop until every last detail had been resolved.
---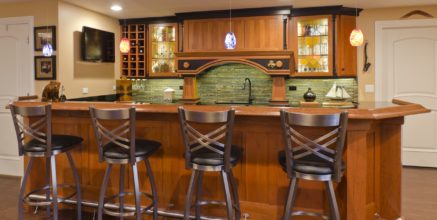 Naperville Basement Remodeling
Naperville Basement Remodeling
Many of our Naperville clients are finishing their basements and making them a usable third level. Embarking on a Naperville basement remodeling project is like any major home renovation — there are a lot of details to consider. From the layout to the final touches, the options are endless for how a basement can be arranged. Our basement designers are experts in helping clients explore all the options – a bedroom for guests, bathroom, kitchen for entertaining, wine cellar, media area, playroom for the little ones or even a workout room.
What Clients Say About Bradford And Kent's Naperville Basement Remodeling
Tom N. – Bradford and Kent Basement Remodeling In Naperville
We did our homework and interviewed several contractors prior to hiring Bradford and Kent to refinish our basement. We chose Bradford and Kent because they were right on target with what we wanted in the design and what we wanted to spend. The actual quality of the materials and workmanship was excellent. We told Bradford and Kent to use our names in any marketing materials and please have anyone call us for a reference.
---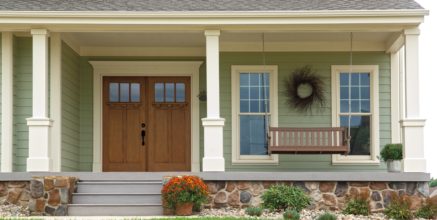 Naperville Replacement Windows
Naperville Home Replacement Windows
Replacing your windows is a great way to enhance your home's value and appearance. Naperville replacement windows can improve your interior comfort and energy efficiency. Furthermore, replacement windows can accentuate your home's architectural style and décor to boost your curb appeal. We offer windows by all of the top manufacturers – Pella, Andersen, Marvin, Beechworth, Lindsday and Velux to insure that you get exactly the right type of replacement windows for your home.
What Clients Say About Bradford And Kent's Naperville Replacement Windows
David S. – Bradford and Kent Replaced Home Windows In Naperville
My wife and I hired Bradford and Kent to replace our windows in our home in Naperville. They had the best price on Pella windows and the highest quality install. We could not be happier with our decision. The windows look amazing and they made the entire process simple and completed by the date we needed. Highly recommended Bradford and Kent for any home remodeling project.
---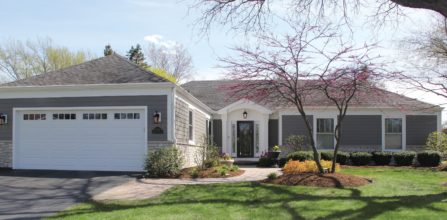 Naperville Replacement Siding
Naperville Replacement Siding
While new siding will definitely improve your Naperville home's appearance, it's about more than just curb appeal. It's about maintaining the integrity of your home's structure to guard against water and pest damage. New siding products are easy to clean, never need painting and can save 35% or more in energy costs. James Hardie and LP Smartside are two of the most popular brands of home siding in America, and comes in a variety of looks such as lap, plank, shingle, vertical, and board and batten.
What Clients Say About Bradford And Kent's Naperville Replacement Siding
Philip C. – Bradford and Kent Replaced Home Siding In Naperville
Bradford & Kent installed replacement windows, doors and James Hardie siding to our home. They walked us through all the steps and helped us choose the materials, quality and style we wanted. They finished when they said they would. We highly recommend them. We love our new home.
---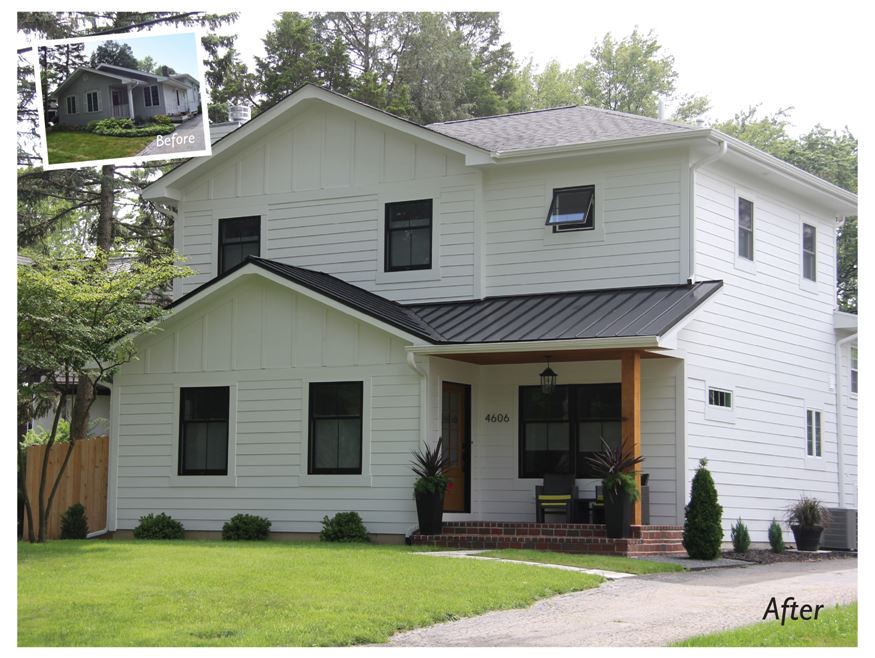 Naperville Exterior Home Makeovers
Naperville Exterior Home Makeovers
Naperville residents are proud of their homes which is why we at Bradford and Kent Exteriors are dedicated to helping our Naperville clients enhance their homes' curb appeal. Whether you want to improve the appearance of your front entrance by adding a portico, put on a wrap around porch, update your siding or completely changing the look of your home's exterior, our designers will help you get the most out of your home and the most for your money.
What Clients Say About Bradford And Kent's Naperville Exterior Home Makeovers
Tony W. – Bradford and Kent Exterior Home Makeover In Naperville
Our home is in White Eagle. We needed to replace our windows, but also wanted to change the look of our traditional red brick home. We called Mike at Bradford and Kent to come out, and give us a few ideas on how to improve our home's exterior. Wow, did he. He gave us some spectacular suggestions. First, he recommended that we paint our brick home white. Next, he told us that we should choose windows that featured black trim, and accent them with dove gray shutters. He also told us to paint the gutters and downspouts black. Wrought iron black window boxes were the finishing touch. This was quite a change from our current home's exterior look, but he was able to show us what it would like look on a 3D rendering. We decided to do it. And, we are so glad we did. We are the talk of the neighborhood. Our house is absolutely stunning. Thank you Mike and Bradford and Kent for a remarkable exterior home makeover.