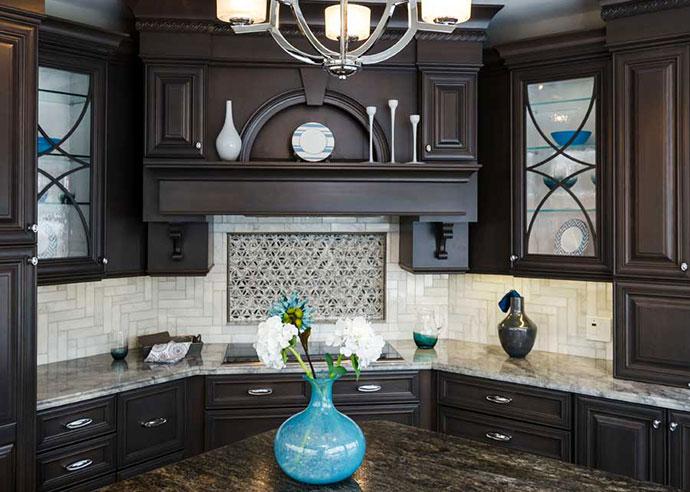 When considering the design of our new kitchen display we were faced with the same concerns as our clients. We wanted to feature current design trends while trying to avoid products that will look dated in just a few years. What we quickly realized was that gray is THE hot new color and can be found in everything from tile, paint, cabinetry and even fashion. We decided that Dynasty Cabinet's Smokey Hills stain on cherry wood gave us a look that was trendy, but also classical and subdued. Therefore, it will never go out of style. We combined the cabinets with an island painted in a pearl brushed glaze.
Every room needs a little sparkle which is why we chose polished chrome handles and light fixtures. Polished chrome has been the best selling finish this year probably because of its affordability and easy clean up. It also coordinated beautifully with our stainless steel appliances which continue to be a mainstay.
We wanted a showstopper for our island which is why we used another hot new product, textured countertops. Even the ever popular granite is now offered in a variety of specialty finishes – honed, leathered, and brushed. These finishes bring out even more of the stone's natural beauty. Advancements in stone sealers have guaranteed that these surfaces can be used without concern.
Comments are closed.