General Remodeling
Your Successful Home Remodeling Project Starts Here
Although a lot of focus is given to kitchen, bathroom and basement remodeling, there are additional rooms in your house that deserve just as much attention. At Bradford & Kent we have the custom home remodeling expertise to make any room a masterpiece including your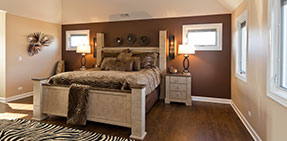 Bedroom Remodeling
Bedrooms are where you relax and unwind after a hard day's work, or where your children study and play. We can create bedrooms that give you exactly what you need, from a serene sanctuary to a whimsical wonderland.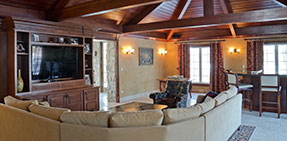 Family Room Remodeling
Some family rooms look sleek and modern, while some are ornate and traditional. Whatever your design style, the family room is the place to gather with those you love for game nights, parties, reading your favorite books and late night movies. We can design a comfortable room where everyone feels welcome.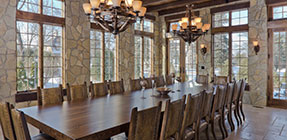 Breakfast & Dining Room Remodeling
As families grow, they find themselves needing more space at the kitchen table or even in the formal dining room. As a family owned business, we understand the importance of family meals and get togethers which is why we are a remodeling contractor who takes particular care in these rooms.
Office Remodeling
Whether you work out of your home, need a place to pay bills, or want a quiet space to write your first novel, we can design a stylish, functional study that is just right for you. At Bradford & Kent we have built home offices that are polished and sophisticated, inspirational and artsy, and clean and crisp. Your imagination is our guide.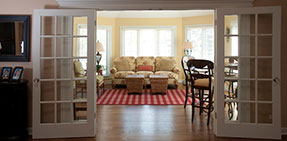 Sunroom Room Remodeling
Our winters are long and our summers are short which is why many of our clients ask us to design sunrooms and four season rooms. These rooms can give you the beauty of the outdoors while staying in the comfort of your home.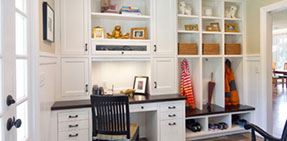 Laundry & Storage Area Remodeling
A laundry room on the first or second floor means not having to trudge up and down the basement stairs with a heavy basket of clothes. We fill our laundry rooms with amenities like soaking sinks, folding tables, pull down ironing boards and retractable clothes lines, and of course, plenty of cabinets. Like laundry rooms, storage areas are very important. Almost every parent's dream is to have each child's school books, sports gear, shoes and coats in their own special places. We will design and build a storage area to your family's exact specifications.
Bradford & Kent Are The Experts In Custom Home Remodeling
Schedule your free in-home consultation and allow us to show you why we are the premier home remodeling contractor.